Product: Taxi meter Function in GPS Tracking
taxi meter | fleet management | taxi meter function in gps tracking realtime |

Model No.: Taxi Fare Meter Function in GPS Tracking
This taximeter is a compact taximeter which can be placed on any proper space. The server can make trip reports and map about the start and end and fare and distance.

How does taxi meter Function in GPS tracking solution?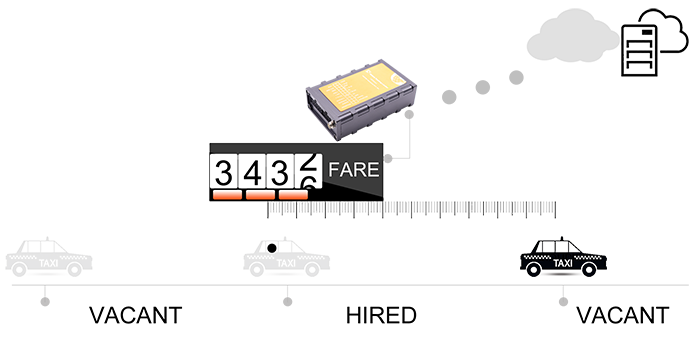 If driver presses the START button to enter hired mode, gps tracking device would get the signal from taxi meter. And send data to server including car plate number, meter number, start time. At the end of trip, driver presses STOP button to enter into vacant mode. Tracking device would send data to server including start time, end time, total time, waiting time, distance, fare.
Features
● Variety 5 function buttons
● 7 digits for fare display
● Tariff operates based on distance and time
● 4 display window to separately shows RATE, FARE, DISTANCE and WATING TIME
● Highly flexible rate management system makes the fare rate adjustable and security
● Tariff update by manual or down load by a handset programmer or pc software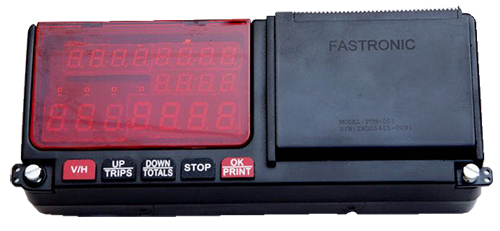 Description
● K constant self measured
● Print your own info on receipt including your own logo
● Fast Printing Speed
● Real time clock and calendar display
● Running status display including no paper alarming, tampering alarming, and inner trouble alert
● Query reports for Daily, Monthly, Yearly, and Grand total directly by buttons on meter
● Print out receipt and daily, monthly, yearly and grand totally report using inside thermal printer
● Clear daily data automatically at 00:00:00 or manually anytime by querying up and printed out
● Store up to 104448 trips data that runs in up to 6 years and enlargeable
● Data duration up to 100 years
● Print tariff parameters
● Print out all trips info one by one using inside thermal printer
● Print out trips info of a range of date on printer inside taximeter both by buttons operation and by pc
● Control options can be checked directly on meter
● printer option—Option for Manually print, Auto print, and disable printer
● Anti-tampering option---Option for Tampering detected and lock meter for certain time that setup in parameters Tampering detected with alarm and ignore counting Km and fare
● Disable anti-tampering
● expiry date checking---For government or owner usage. If enabled the meter will not work on hired status when time is over expiry date; if disable, it works all the time
● Clear stored total records--If enable the total records will be cleared when program, if disable keep saved
● Enable print logo--If enable print logo the logo will be printed before each receipt
What Benefits from taxi fare meter function?
●
Deep control for taxi companies management
taxi companies can easily acquire the data of distance, consumed fuel, locations, fare and time consumed online.
●
Reduction of Driver Corrupt behavior
taxi meter function in gps tracking can reduce the cab drivers' corruption behaviors. management can acquire the real time fare data online.
●
Improve the productivity and reduce the fuel consumption after plenty of data analysis
taxi companies can analyze the better route and optimize the driving behavior in order to reduce the idling time and reduce the driving time and improving the fuel use.
Technical Properties
meter Specs:
Operating Voltage
6V DC-30V DC
Operating Temperature
-15°C--80°C
Operation Current
0.02A, 2A max while printing
Printer Specs
Type
Thermal Line Printer
Printing Speed
Approx 1sec/Inch
characters per line
24 characters