Products: GPS Tracking Solution
Model No.: AT09-3G
advanced 3G GPS Tracking Device supporting TPMS, taximeter, etc.
GPS tracking software platforms supporting this gps tracking device:
traccar
gurtam
gpsgate
gps-server
Features
Tire Pressure monitoring online in Realtime
3 serial port for multi peripherals: 1 RS485, 2 RS232
2 temperature sensors monitoring simultaneously
Send data to two servers simultaneously
4 fuel sensors monitoring simultaneously
● GPS and GLONASS supported simultaneously
● BeiDou and Galileo supported optionally
● Robust firmware design and stable hardware with watchdog
● Real time tracking and history data traces tracking
● 3-Axis Digital Accelerometer movement status monitoring
● Firmware update by OTA
● Support
DC 9v --50v
, over-voltage protection
● Send commands to GPS trackers via GPRS
● Send GPRS data to IP or domain name
● 16Mb Flash Memory( stores 4000pcs or so data)
● Fuel/oil level detection with high accuracy
● Google map link sent via SMS
● Two way voice communication
●
High temperature and low temperature resistant battery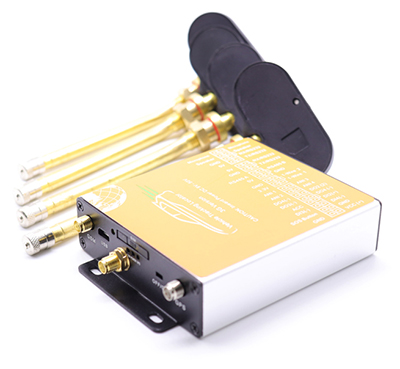 Solutions and managements
Tire Pressure Monitoring in GPS Tracking
● Anti tires theft Realtime
● Monitoring tires pressure, tires temperature, sensor volt online
● alarms for tires pressure, tires temperature, sensor volt to server
● alarm tire pressure value adjustable
● Replaceable battery for valve-cap sensor: CR1632
● valve-cap external sensors
● Anti theft sensors mounting design
● Intelligent power consumption on 3-Axis digital Accelerometer
● 42 tire pressure sensors maximum supported
● Reduce tires maintenance cost, save clients money
● Support different tyre pressure sensors: external tyre sensor, internal tyre sensor, air-flow-through tyre sensor, banded tyre sensor
Click here for More...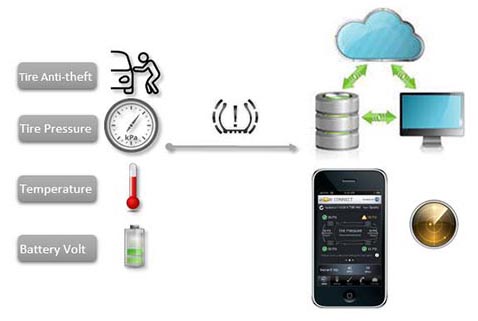 Description for GPS tracking
● GSM: Quad-band: GSM850 / E-GSM900 / DCS1800 / PCS1900
● 3G: 900/2100 or 850/1900 or 850/2100
● RF433.92MHz for TPMS
● u-blox GPS module with high GPS positioning accuracy
● SMS, GPRS TCP / UDP communications
● Real time tracking and history data traces tracking
● Track by cell phone or web based tracking software
● Real-time tracking (Time, Distance Interval or Intelligent Mode)
● Multiple alarm types
● Control car doors close/open, Detect the status of engine on/off
● Intelligent power management: normal, sleep, deep sleep
● flash memory for data storage in GSM blind area
● Sleep mode for Saving Power and GPRS traffic

● Backup battery: 800 mAh Li Polymer battery
● Geo-fencing reports: into-Geo-fence; Out Geo-fence
● Motion sensor for vehicle motion detections
● Different GPRS data string sending intervals:
at certain interval in engine on or tremble state;
at the other interval in engine off or still state
● Flexible GPRS data sending modes by different triggers:
data sent by time interval;
data sent by distance;
data sent by course change.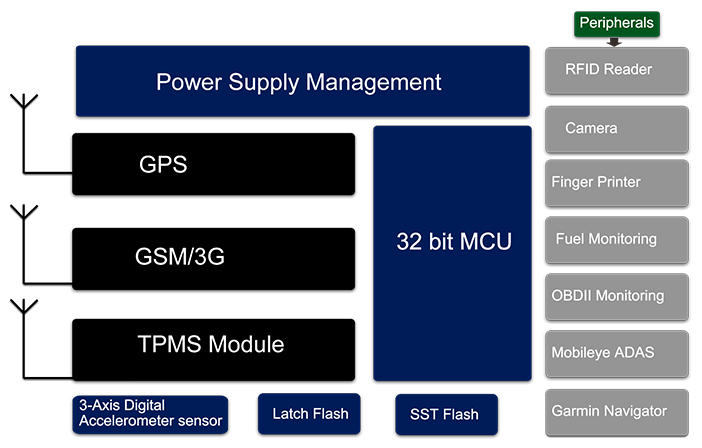 Alarm Events
Over Speeding
Low Battery
GEO Fencing
Vibration Alert
Car Door State
External Power Off
SOS Alarm
GPS Antenna state
Engine State
Course Change
vehicle towing alert
engine idle alert
Accessories
Standard:
GSM Antenna: 1pcs | GPS Antenna: 1pcs | I/O cables: 1 set
Optional accessories:
OBD module | Relay | Door Sensor | Fuel Sensor | Camera | Temperature sensor | Microphone | Speaker | Buzzer | iButton Reader and iButton tags | RFID reader and RFID tags | LED lamp | TPMS RF433.92MHz antenna
Technical Properties
ITEMS
SPECIFICATIONS
Power Supply
+12v --- +60v / 1.5A
Internal Battery
800mAh, rechargeable polymer lithium-ion battery,
anti-high temperature to 80°C
Normal power consumption
2W, 12.5W at peak
Dimension
112×80×25mm
Weight
150g
Operating temperature
-20° to 60° C
Humidity
5% to 95% Non-condensing
Frequency
3G: 900/2100MHz | 850/1900MHz | 850/2100MHz
GSM: 850/900/1800/1900MHz

GPS Module
u-blox UBX-G7020 KT
GPS Sensitivity
-162 dBm
Receiver type
50 Channels | GPS L1 frequency, C/A Code | SBAS: WAAS, EGNOS, MSAS
Horizontal position accuracy
GPS 2.5 m | SBAS 2.0 m | SBAS + PPP7 < 1 m (2D, R50)8) |
SBAS + PPP7 < 2 m (3D, R50)8
Velocity Accuracy
0.1 m/s
Reacquisition
0.1 sec., average
Hot start
1 s
Warm start
1 s
Cold start
27 s
Heading accuracy
0.5 degrees
Velocity Accuracy
0.1m/s
LED
3 LED lights to show GPS/GSM/Power status
Flash Memory
16Mb 
Button
One SOS Button
Interface
1 switch input, 4 digital inputs , 4 digital outputs, 4 analog inputs,
2 RS232 ports, 1 RS485 port, 2 1-wires for temperature sensors, 4 ports for voice communication
TPMS Frequency
RF433.92MHz
TPMS chip
ATA5428; SP37.
TPMS sensor Battery
Lithium-Manganese Button Cell Battery
working temperature: -40°C--125°C
TPMS Pressure Range
1-4.5Bar(100kPa-450kPa);
1-9bar(100kPa-900kPa)
contact part with tire stem
anti-erosion brass
TPMS Pressure Range
1-4.5Bar(100kPa-450kPa);
1-9bar(100kPa-900kPa)
Pressure Accuracy
+-1.5psi
Temperature accuracy
+-3°C
Transmission power
≤10dBm
Standby Battery life
≥3 years
size
112×80×25mm or 4.4×3.15×0.98inch
Packing Details:

net weight for 1 AT09:150g
weight for 1 set: 800g
weight for 1 carton: 600g
size for 1 carton: 48×37×33 cm
30pcs box / carton
Installation guide
IO Port specification
IO port connection
Power connection
Ignition detection
Note: GPRS message time interval may different after you connect with ignition (can set in Configuration Manager.)
Digital Input (DI3 (-), DI4 (-), DI2 (+))
Positive trigger use to detect windows, door which trigger by positive circuit. Please be noticed that some of windows/door are built with negative trigger, in this case, we need to use negative trigger digital input (DI2 (-) / Digital input 2)
In some case, like truck, there is no circuit at back door, so an extra door sensor is required.
Relay connection
Digital out has 3 control mode:
1. Controls by firmware (in this mode, not able to cut off engine by GPRS/SMS command.)
2. Control by user.
3. Disable.
If want to send command to control output, need to change mode to 'User defined'. Refer to 'user manual for configuration for more detailed information'
Default setting for digital output: controlled by firmware.
Digital output (DO2, DO3, DO4)
Other digital output can also connect with a Buzzer or LED lamp to give an alert to driver.
Analog input (ANI1, ANI2, ANI3, and ANI4)
Analog use for detecting the voltage for peripheral device.
Typical application is connect with a fuel sensor. Sensor provide by us is a capacitor fuel sensor, length can be cut to suit different tank size.
After cut, sensor need to calibrate again. For more detailed, please refer to our 'FL05 fuel sensor manual'
RS232, RS485, 1-Wire
Standard firmware come with camera, RFID, OBD feature.
1-wire: standard firmware come with 1 temperature, 1 ibutton.
All these peripheral with a complete 4PIN connector for connecting with device. No need pay extra for this connector.
Garmin Connection
AT09 device has built Garmin protocol inside, it needs a special firmware and RS232 needs go to certain port in 8PIN socket.